Curriculum of Hope
Curriculum of Hope for a Peaceful World
The mission of the Curriculum of Hope for a Peaceful World Committee is to study and promote critical thinking, conflict resolution, and coooperative learning skills toward a more peaceful world. The committee discusses peace issues; publishes and distributes a quarterly newsletter; presents workshops and exhibits at Delta Kappa Gamma Chapter meetings and State, Regional and International Conferences and Conventions; develops peace programs for children and adults; and promulgates peacemaking resources
Model UN Invitational 2014, Trumbull High School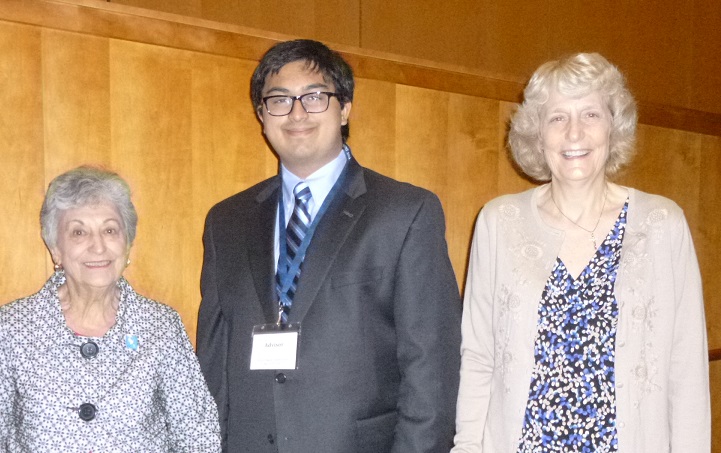 L to R: Anita Satriano, Kunal Jhaveri, THS Model UN Undersecretary General of Disarmament and International Security Council (DISEC), and Ann Cavanaugh Grosjean
Anita Satriano, a 25-year member of the Curriculum of Hope Committee who currently serves as its Chair, and Ann Cavanaugh Grosjean, Delta Kappa Gamma's NGO representative to the UN and CTAUN (Committee on Teaching About the United Nations) were Keynote Speakers at the Model UN Invitational Conference on May 17, 2014, at Trumbull High School. Small groups of students from thirteen schools in New England participated in the day-long event.
Anita welcomed the students, praising them for their commitments to the UN and its programs for human rights, equality, and justice throughout the world. She reminded attendees how critical their voices are in creating a peaceful world and becoming world leaders for tomorrow. Click here for the transcript of her address.
Ann's message updated the students on UN efforts to eradicate child soldiering and other mistreatments of children throughout the world. This topic was particularly relevant as Human Trafficking Around the World was one situation being discussed by the student delegates. Click here for the transcript of Ann's address.
Fall 2010 Conference Presentation
Good News! There is Hope for a Peaceful World!
Download these materials from the Fall 2010 Conference Presentation, "Good News! There is Hope for a Peaceful World!"
Good News!
Books for Educators who Teach Peace
A list of websites for promoting peace
AKS, "A Resolution for Peace"
Whereas...We as educators have the responsibility to develop our students' basic knowledge of world events and issues, and students must understand and respect the underlying values of all societies;
Whereas...Students must be able to learn how citizens gather information, consider opposing opinions, come to conclusions, and act on their beliefs;
Whereas...Each individual makes an important contribution to peace in our world, and there is a warlike quality pervasive in our daily lives;
Whereas...Educators should show their students that they are willing and able to help students strive for a peaceful world;
Whereas...It is important for educators to develop the conviction needed to combat hopelessness and work toward insuring our survival;
Be it resolved...We, women educators, as members of the Delta Kappa Gamma Society International, mut provide our students with the critical thinking, conflict resolution, and cooperative learning skills necessary for them to become responsible and active citizens striving for positive change and a peaceful world.
Adopted by the Delta Kappa Gamma Society International, August, 1986, Indianapolis, Indiana, from the original resolution adopted by Alpha Kappa State May 4, 1985